Ralph Lauren: A Much-Lauded American In Paris
文章导读
A French award from President Macron and a revealing film shows the star-spangled designer in a gentle light
敬请期待中文版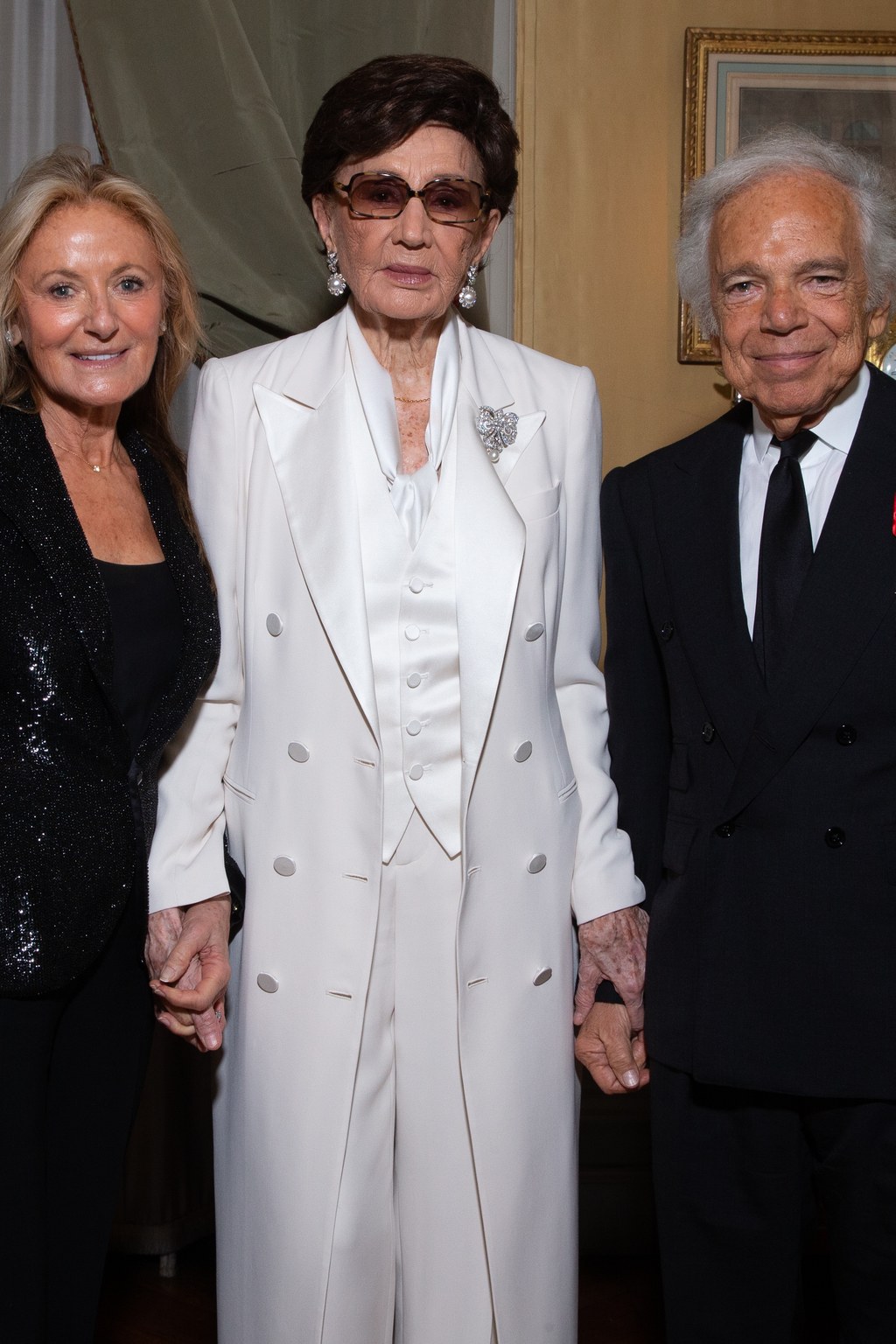 © David Atlan
With a posse of chandeliers overhead in the Élysée Palace, in front of his extended family, Ralph Lauren received from French President Emmanuel Macron an elevated title of the Légion d'Honneur he was awarded in 2010.
It marked an exceptional year for the American designer, aged 80, who has celebrated 50 years since, as a young man from an immigrant family, he started his business in New York with shirts and daringly wide neckties.
"What matters most to me is having my family here," said Ralph Lauren, who stood on the stage after the ceremony with his wife Ricky, surrounded by his brother, sons, Macron's wife Brigitte, and two monuments of the French cinema who were also being honoured: Jean-Paul Belmondo and Robert Hossein.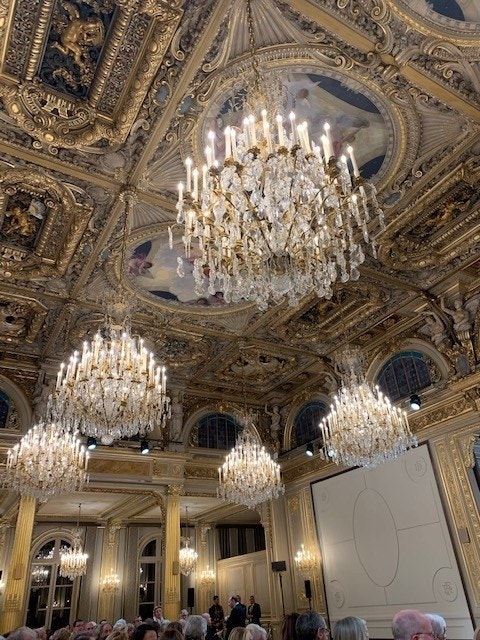 A shot of the Élysée Palace chandeliers during the Legion d'Honneur ceremony
© @SuzyMenkesVogue
"The American dream that you imported is the spirit of America that we most admire," said Macron, who in a wide-ranging 15-minute speech talked about Ralph Lauren's 'Polo' style of sporty elegance, the sense of simplicity in luxury and the designer's widespread philanthropy, especially his financial support of explorative treatments of cancer.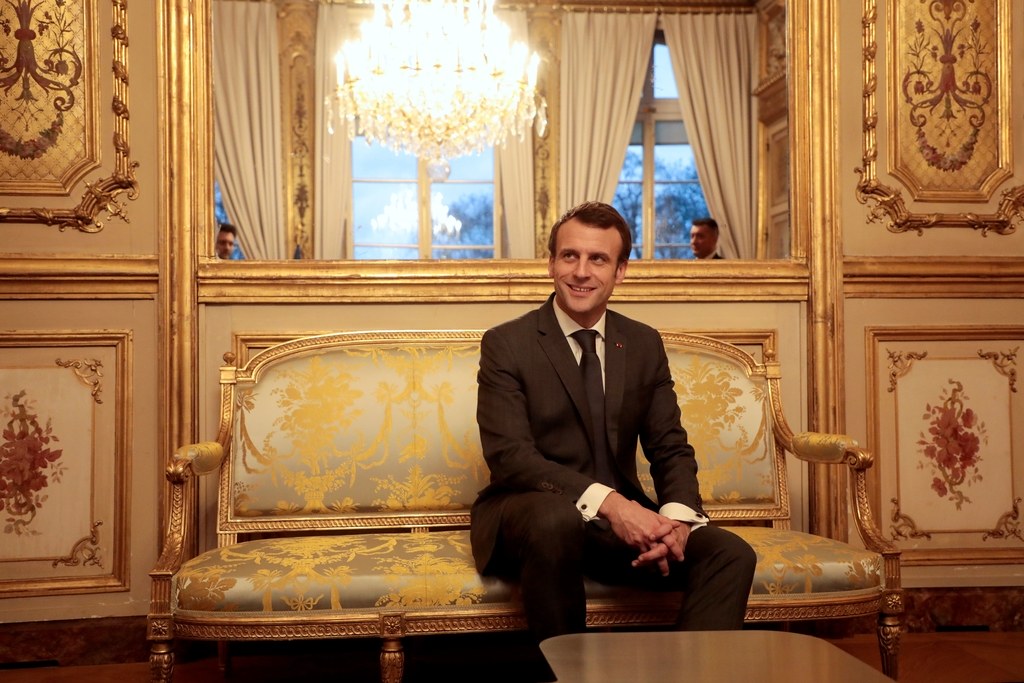 French President Emmanuel Macron at the Élysée palace
© LUDOVIC MARIN / Getty
It was hard to imagine any other fashion figure from outside France who could have received such a deep appraisal from the head of state. But the appreciation continued at dinner in the palatial home of Jacqueline, the Comtesse de Ribes, who had opened up her house for her guests and put together a group of artistic friends to greet the Lauren family.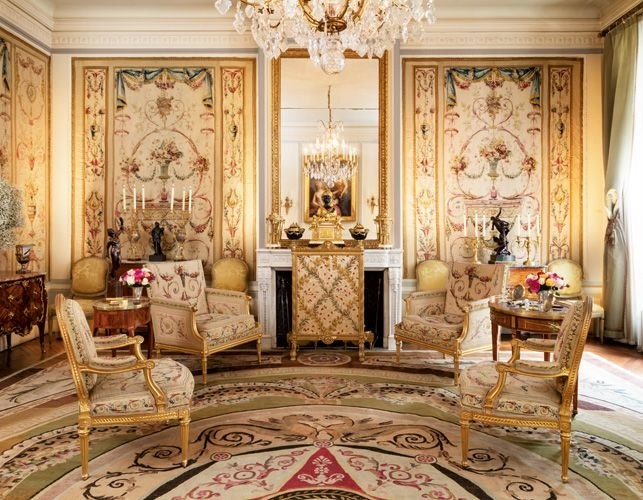 A room in the Paris home of the Comtesse de Ribes showing historical paintings and objects which will be on sale at Sotheby's in December 2019
© Courtesy of Sotheby's
Surrounded by historic paintings and artistic pieces (some of which will be on sale at Sotheby's next month), Jaqueline de Ribes gave a witty, heartfelt speech about the worn riding boots and torn blue jeans that Ralph Lauren elevated into elegance.
"Success is not an easy thing to reach, it needs courage and faithfulness to your own vision of classic revisited – imaginative, daring and refined to the upmost detail – as the highest sense of good taste," she said.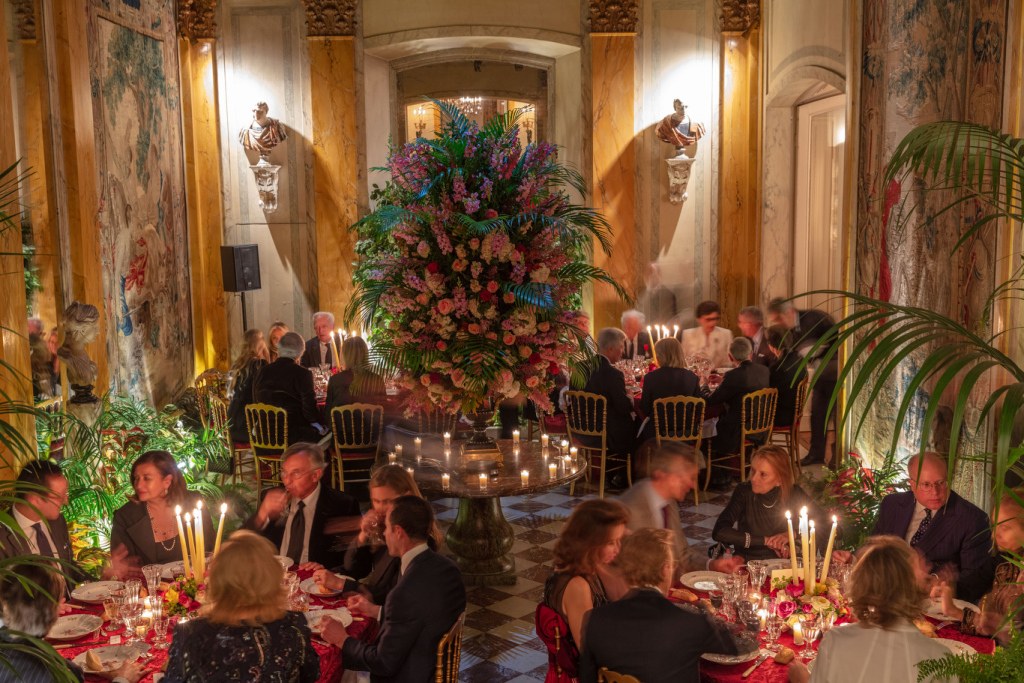 The dinner for Ralph Lauren hosted by Jacqueline, Comtesse de Ribes
© Courtesy Photo
Cheers came from the audience, dining with a background of flowers as well as historic objects, when the countess, 90 but looking two decades younger in her white trouser suit, said: "This is the greatest American ambassador ever – of the beautiful America that inspires the world."
The art-loving aristocrat went on to admire the designer's "support for grand causes: cancer, culture and environmental preservation". She also thanked him effusively for "restoring the Paris École des Beaux-Arts, allowing artists and students to modernise their way of working".
More applause rang out when Jacqueline de Ribes ended by saying to Ralph Lauren, "One of your most beautiful creations is your family, your most precious accomplishments to protect your world of love."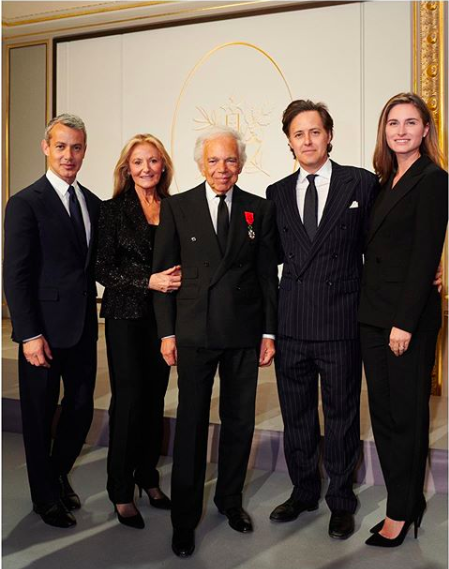 Ralph Lauren with his wife Ricky, sons Andrew (far left) and David (right) and David's wife, Lauren, at the Legion d'Honneur ceremony
© Ralph Lauren
Along with all the celebration in France – and the title Honorary Knight Commander of the British Empire that the designer received in June from Prince Charles, an appraisal of his life is also about to be launched from America.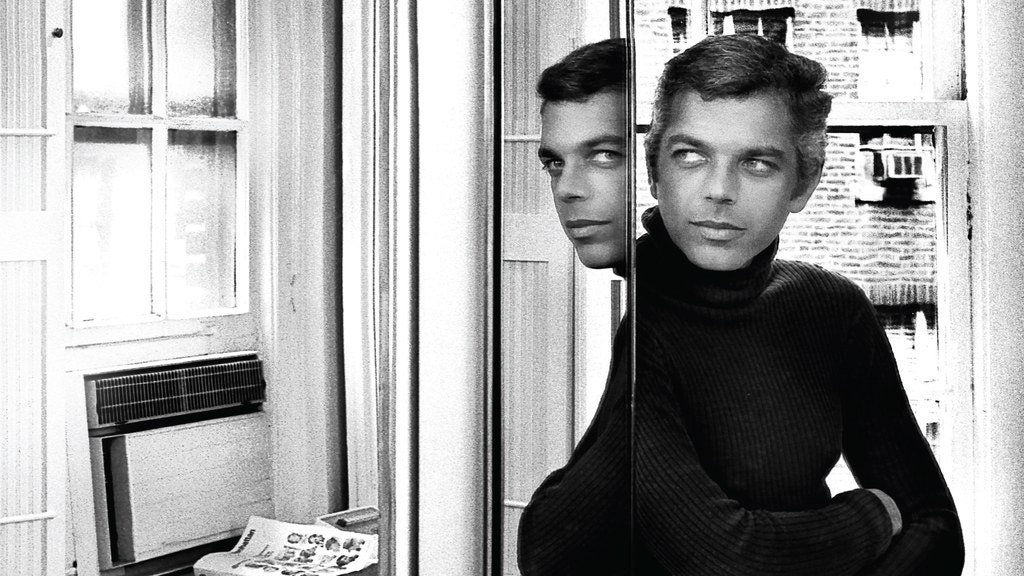 An image of Ralph Lauren from the HBO documentary Very Ralph
© Courtesy of HBO
Very Ralph, the first full-length documentary portrait of the designer, will air in Europe this month. With Graydon Carter, the legendary magazine editor, as executive producer and the film directed and produced by Susan Lacy, the documentary launches on HBO on 12 November and will be shown on Sky Atlantic and NOW TV in the UK on 15 November.
After over 50 years in business there is plenty to show on film – as long as it is honey-sweet. At its heart are his omnipresent family, especially his wife Ricky, but also his son, film producer and actor Andrew, daughter Dylan who has built a business selling sweet treats, and son David who works for the company.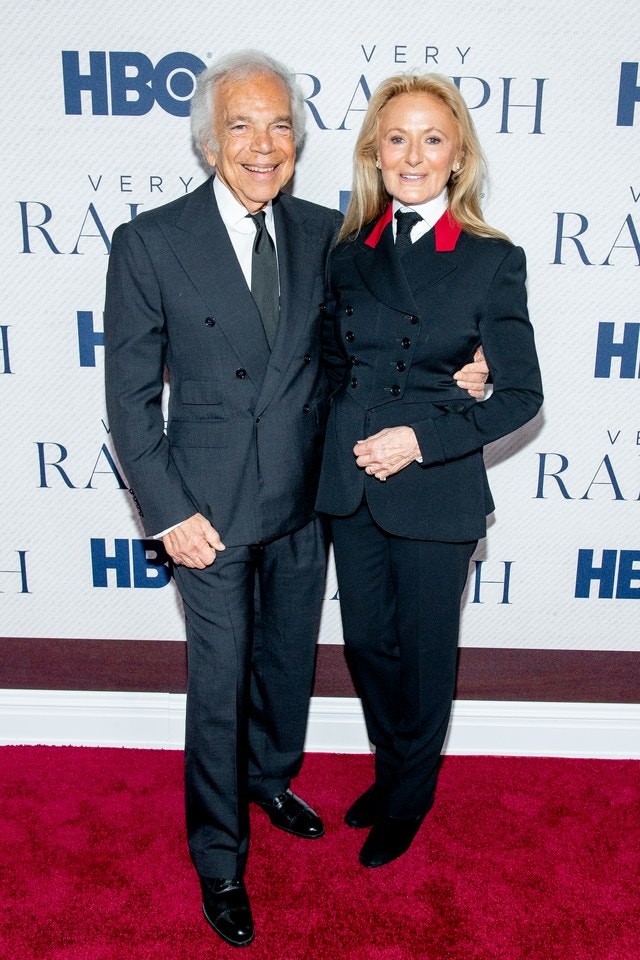 Ralph Lauren and his wife Ricky at the premier of the HBO documentary of his life, Very Ralph
© Roy Rochlin / Getty
The most powerful moment of the movie is last year's celebration of Ralph Lauren's 50 years in fashion when the super-famous from Hilary Clinton to Oprah, Kanye West, Bruce Springsteen and so many more attended the unforgettable show held in New York's Central Park, where a finale of children dressed in the designer's signature style, reduced the audience – and Ralph Lauren himself – to tears.
By the end of the long film, you feel that you know Ralph Lauren's homes across America from New York to Colorado – each sealed with scenes of perfection, whether the maestro is driving a shiny vintage car or there is a group of good-looking young men posed in whites by a tennis court. Hard indeed to separate life from fantasy for a designer who lived his own immigrant dream.
What is pervasive is the work ethic of the designer who seems to have transported that to his family.
In the film and surely in life, Ralph Lauren is a designer without any sense of irony, from his cowboy hat to his tattered jeans and worn boots. That innocent vision is not necessarily a criticism in the context of a deeply cynical world.
转载声明
本内容系VOGUE时尚网原创或经官方授权编译转载,严禁以任何形式或方法转载或使用,违者追究法律责任。
将本文分享到
你可能还会喜欢
更多相关网站内容